20 Delicious Slider Recipes for Tailgating
We may earn money or products from the companies mentioned in this post. As an Amazon Influencer, I earn from qualifying purchases. Learn more.
20 Deliciously Easy Slider Recipes for Tailgating – Pulling together a tailgating feast doesn't get much easier than these delicious and easy Slider Recipes for Tailgating.
I seriously love this time of year. Summer is leaving and in with fall, football and the holidays I love! I think one of the reasons I love this time so much is all the indulgent foods from football watching to the holidays, it's decadent!
Below you'll find the TOP 20 Slider Recipes for Tailgating that are all delicious and EASY. These are a perfect way to celebrate football season.
If you are wanting to celebrate football with deliciousness that tends to go hand in hand, try these mouthwatering sliders that are a win whether your team does or not. This post is full of delectably easy Slider Recipes for Tailgating to pick from.
---
See Also:
---
20 Slider Recipes for Tailgating
Easy Italian Sliders from The Salty Root
"Super gooey cheesy buns with different deli meats, oven toasted to a golden brown. There's not much to say about these cute little sammiches except they're super easy, super tasty and can easily feed a crowd! With minimal effort, these adorable little munchies will bring smiles to all who sample them! And then just watch.. everyone wants the recipe – this can be our little wonderful secret! "
Hawaiian Sliders from The Soccer Mom Blog
"This is our favorite Hawaiian Sliders recipe. Sliders are the perfect party food, and they're super simple to make! These are one of the most popular recipes ever on our blog – try them and you'll see why!"
Easy Philly Cheesesteak Sliders fromSomewhat Simple
"Philly Cheesesteak Sliders are made with thinly sliced steak, sauteed peppers and onions, melted Provolone cheese, and are all wrapped up on deliciously soft Hawaiian rolls!"
Crockpot Buffalo Chicken Sliders from Temecula Blogs
" Try our crockpot buffalo chicken sliders! With a creamy sauce, tender chicken and a bit of a kick to it, I am sure your family will rave over these too! Need low carb sliders, no problem just use lettuce instead of buns."
Chicken Parmesan Sliders from Homemade Interest
"Chicken Parmesan Sliders take the classic comfort food, Chicken Parmesan and put it on soft slider rolls, to bake it into a delicious bite-size snack that is the ultimate party food!"
Black Bean Salsa Sliders from Happy and Blessed Home
"This recipe for my Black Bean Salsa Sliders is inspired by my latin heritage and our family's love of black beans. A slider is a smaller version of a hamburger sandwich. These sandwiches may be proportionately smaller in size but they are big on flavor. The combination of black beans, garlic, onions and tomatoes sitting atop a hearty slice of Kraft sharp cheddar cheese, and Stove Top stuffed ground turkey patties tucked inside a super-soft pint-sized bun makes for a filling meal."
Chicken Waffle Sliders from Food Folks and Fun
"SUPER quick & easy game day recipe for you that everyone will love. Plus its kid-friendly, too. I present to you Chicken & Waffle Sliders. I took the classic comfort food chicken and waffles and turned it into a portable appetizer that is perfect for your next get together. These aren't just for game day, you could even serve them at brunch."
Turkey Sliders from Sunshine and Hurricanes
"A favorite of my whole family is turkey sliders. From start to finish I can have these little guys on the table in less than 30 minutes."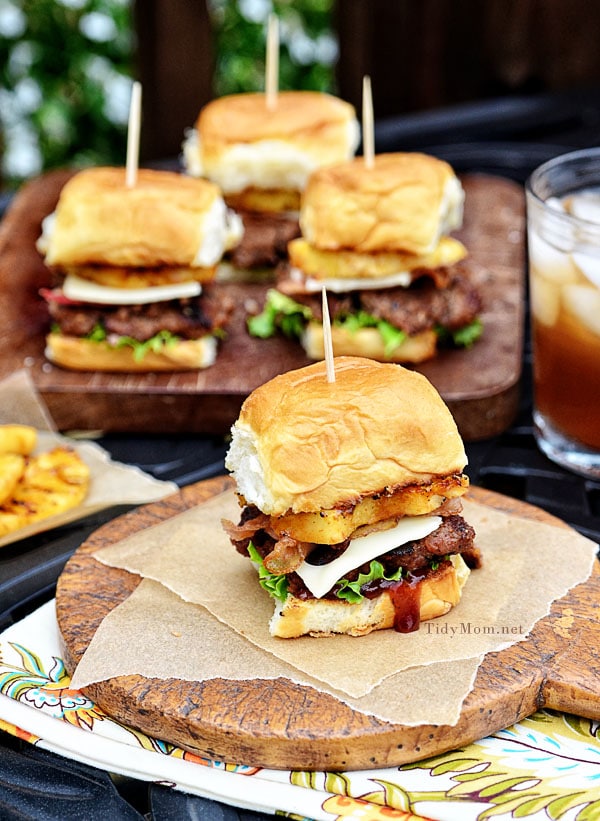 Aloha Sliders from Tidy Mom
"These Hawaiian burgers just scream summer, but I know we would eat them all year long. I think it's the barbecue sauce with a touch of pineapple juice inside the burger and again on the bun."
Big Mac Sliders from Fresh Family Meals
"All the fixings that make the Big Mac so special, but in a smaller form that fits easily in one hand. So your guests can have just one, or as many as it takes to satisfy their appetite."
Gameday Breakfast Sliders from Mom Endeavors
"Perfect for morning games, these sliders are easy to make, super tasty, and definitely more filling than something like donuts. You can even make them up the night before if you'd like. But, they don't take long to make at all (20 minutes or less) in the morning. The sauce on top really makes these SO extra good – once they start cooling, the tops of the rolls are just perfection! "
Baked Reuben Sliders from In The Kids Kitchen
"Hot out of the oven, with a "secret" butter dressing cooked into the bread, these mini sandwiches will literally melt in your mouth! Perfect for a quick weeknight dinner (ready in under 30 minutes) or a crowd-pleasing party recipe!"
Chicken Cheesesteak Sliders from Homemade Interest
"These delicious Chicken Cheesesteak Sliders are the perfect game day appetizer or easy weeknight dinner. Tender chicken, colorful peppers, and melted provolone cheese, all sandwiched between soft slider buns, makes my Chicken Cheesesteak Sliders a family favorite."
Buttery Baked Ham, Apple, & Cheddar Sliders from The Soccer Mom Blog
"One of our favorite fall recipes is hearty pork & baked apples, so we did that in a slider version. The result is a perfect pairing of tart apple and sharp cheddar, rounded out with buttery ham and sweet Hawaiian buns. Top it all off with a tangy Dijon marinade and you've got a sandwich like none other!If you like ham and cheese sliders then you've got to try the Baked Ham, Apple, & Cheddar Sliders! This is next-level party food!"
Caprese Sandwich Sliders from Salty Side Dish
"The Caprese Sandwich (often called Caprese Slider are a delicious way to get your tomato, mozzarella and basil right into a personal sized appetizers. Easy to whip up and dripping in melty cheese, talk about a party favorite!!"
Cheesy Guinness Beef Sliders from Fresh Family Meals
"What are Cheesy Guinness Beef Sliders, you ask? Well, they're like a really good hot roast-beef sandwich, topped with cheese and sautéed mushrooms and onions. But what really takes them to the next level is the glaze – a blend of Guinness, melted butter, brown sugar, and spices, drizzled all over the tops of the sandwiches."
Pepperoni Pizza Sliders from Tidy Mom
"PIZZA SLIDERS are always the hit of the party! Pull-apart dinner rolls are layered with sauce, mozzarella, and pepperoni topped with a buttery garlic Parmesan crust. It's hard to go wrong with this one and you can use your favorite pizza toppings if you like!"
Easy Sliders from Wonder Mom Wannabe
Easy Meatball Sliders from Homemade Interest
"Meatball sliders are a favorite at parties and they are perfect for game day. One look at those cheesy bites of delicious, saucy, meatballs, and you just want to dig in! They are super easy to make too. "
Slow Cooker BBQ Pulled Pork Sliders from Meaningful Mama
IF YOU WANT TO TRY ALL THESE DELICIOUS TAILGATING SLIDER RECIPES, BE SURE TO PIN THIS POST TO YOUR FAVORITE RECIPE BOARD(S) ON PINTEREST.