Beginners Guide To The Keto Diet Simplified
We may earn money or products from the companies mentioned in this post. Learn more.
Hello, lovelies!
Does anyone else find that time is flying? I seriously cannot believe we'll be celebrating the start of a new year in 5 days. It absolutely blows my mind! As you reflect on this past year, and decide on resolutions, will weight loss be one of those?
The keto diet is all the rage right now, though it isn't new. This Beginners Guide to the Keto Diet Simplified will provide you with the basics you need in order to start the keto diet: everything from keto food list to keto flu, and even rules of keto. I am also providing you with information on simplified starter meal plans. If you are looking to start losing that unwanted weight, the keto diet may be the answer for you, and Beginners Guide to the Keto Diet Simplified is a great way to start!
Trust me, I know in the beginning the keto diet can be confusing and intimidating. Sometimes you think you have it down pat and compiling your ultimate meal plan and the next minute you are second guessing yourself!
We've all been there!
Simplifying it for you is why I am writing this Beginners Guide to the Keto Diet. I want to help you weed through all the information to only what is necessary to start. I also understand any skepticism you may have. From so many differing views of what works to the controversy of keto, there is just so much to read.
While there may be a lot of keto blogs, this is a life changer. My life changer.
I've struggled with my weight since the first time I became pregnant. Three kids in now, I still struggled. I had tried everything. But trying to remember calorie counts or points didn't work for me. Keto appealed to me because of the variety (not to mention favorite foods) it allowed me to consume. Once I figured it out, I immediately saw results!
Through all of my previous ups and downs with weight before keto, I was never this healthy. Remember I said it was a life changer for me? I didn't just lose weight for an event or vacation. I have lost weight, I am rarely sick, my face cleared up, rarely do I have a migraine, there are just so many benefits to keto. The many health benefits of the keto diet have made such an impact on my life. It is reported to help balance hormones, help with depression, and help with so many other issues. Let me tell you, healthy is the best.
Through my keto experience, I've learned the ins and outs, the things that I think will help you lose weight with the keto diet too. My simplified guide lays it all out for you.
Let's get to the deets!
WHAT IS THE KETO DIET?
While it may seem new because it is trending, the ketogenic diet has actually been around since the 20's. It was developed for patients with epilepsy by their physician. For whatever reason, there are skeptics that shoot keto down stating it isn't healthy or won't work. Yet not only are there studies proving that the low carb high fat ketogenic diet helps diabetes, heart disease, stroke, Alzheimer's, etc, but it is PRESCRIBED by physicians with patients suffering from these illnesses!
Many celebrities also use the ketogenic diet to lose weight and even manage their issues. Many swear by it and will never go back to any other way. Halle Berry has stated she applies the ketogenic diet to her life in order to manage her Type 2 diabetes. Athletes (from Time Tebow to LeBron James) to Models (Adriana Lima) to actresses (Gwyneth Paltrow to Vanessa Hudgens) and even reality stars like Kourtney Kardashian swear by their keto lifestyle.
KETOSIS
Ketosis is a normal metabolic process, something your body does to keep working. When it doesn't have enough carbohydrates from food for your cells to burn for energy, it burns fat instead. As part of this process, it makes ketones.
It's fat burning beast mode 🙂
FAT BURNING
Eliminating carbs and burning fat produces ketones thereby entering ketosis- a natural metabolic state. In ketosis, your body has started to burn fat for fuel.
MACROS
If you've been curious about keto prior to this article, you've likely already heard of macros.
Long story short, Macros are the nutrients you need in large amounts. They are what provide your body with the calories needed to function. Macronutrients are fats, protein, and carbohydrates.
FOLLOWING A KETO DIET, YOU'LL WANT TO GET 10% OF YOUR CALORIES FROM CARBS, 15-25% FROM PROTEIN, AND 70% OR MORE FROM FAT.
Don't get lost in numbers and math though. To simplify this, use the Free Low Carb Macro Calculator to figure out your number the easiest way!
SIGNS OF KETOSIS
At the beginning of any new diet, you want to know it's working when it's too early to see it on the scale. Your body will be giving you telltale signs. You just need to know what to look for.
First, decreased appetite. This is my favorite sign. 🙂 Following keto, I don't get hungry. Fall off keto, and you want everything. I kid you not. I use to be such a carb addict that I would have candy, soda or some form of bread throughout the day. Every day at 3 I had a 3 Musketeers and a soda. Not anymore.
The second, not so popular, is bad breath. This is a very common sign of ketosis. Some experience either a metal or fruity taste. Bad breath is actually a sign your body has started to feed off its stored fat. While bad breath may be bad, this is a good thing. Sugar-Free gum or mints will help with this. Remember, the bad breath isn't for the duration. Hang in there.
EATING ON THE KETO DIET
FAT & OIL
Avocado Oil
Bacon Fat
Beef Tallow
Butter
Coconut Oil
Duck Fat
Ghee
Lard
Macadamia Nut Oil
MCT Oil
Olive Oil
Palm Oil
Walnut Oil (Use Small Amounts)
DAIRY
Butter
Blue Cheese
Brie
Cheddar
Cottage Cheese
Cream Cheese
Feta Cheese
Greek Yogurt
Goat Cheese
Half & Half
Heavy Whipping Cream
Mozzarella
Parmesan
Provolone
Ricotta
Swiss
Sour Cream
MEATS
Basically, any meat is acceptable on keto.
Beef
Bison
Boar
Buffalo
Deer
Lamb
Moose
Pork
Veal
Cured Meats: Pepperoni, Bacon, Hot Dogs, Deli Meat, Sausages, Salami
Poultry:
Chicken
Hen
Quail
Turkey
Pheasant
Duck
Fish:
Anchovies
Bass
Catfish
Cod
Halibut
Flounder
Eel
Haddock
Red Snapper
Sardines
Salmon
Sole
Trout
Tuna
Tilapia
Mackerel
Mahi Mahi
Orange Roughy
Shellfish:
Abalone
Caviar
Crab
Clams
Lobster
Mussels
Octopus
Oysters
Scallops
Shrimp
Snails
Squid
EGGS
Chicken Eggs
Goose Eggs
Duck Eggs
Quail Eggs
FRUIT
Avocados & Olives
Blackberries
Blueberries
Cranberries
Lemon
Lime
Raspberry
Strawberry
VEGETABLES
Arugula
Asparagus
Artichokes
Broccoli
Bell Peppers
Boy Choy
Brussels Sprouts
Cabbage
Cauliflower
Celery
Chard
Collard Greens
Cucumbers
Eggplant
Endives
Fennel
Green Beans
Jalapeño Peppers
Garlic
Iceberg Lettuce
Kale
Leeks
Mushrooms
Mustard Greens
Onions
Peppers
Scallions
Spaghetti Squash
Spinach
Swiss Chard
Tomatoes
Turnip Greens
Zucchini
NUTS & SEEDS
Almonds
Brazil Nuts
Cashews
Hazelnuts
Macadamias
Peanuts
Pecans
Pine Nuts
Pistachios
Pumpkin Seeds
Sesame Seed
Soy Nuts
Sunflower Seeds
Walnuts
Foods To Avoid For Successful Keto
Grains
Pasta
Rice
Wheat
Oats
Barley
Rye
Corn
Beer
Quinoa
Couscous
Rice Flour
Bran
Buckwheat
Millet
White Flour
Wheat Flour
Sugar
Sodas
Juice
Sports Drinks
Chocolate
Ice Cream
Cookies
Candy
Fruit Juice
White Sugar
Agave
Brown Sugar
Corn Syrup
Coconut Sugar
Fructose
Dextrose
Lactose
Glucose
Honey
Maple Syrup
Fruit
Canned Fruit
Apples
Orange
Bananas
Kiwi
Grapes
Peaches
Watermelon
Processed Foods
Bread
Cereal
Cakes
Chips
Pastries
Pretzels
Pancakes
Snack Bars
Most Sauces
Crackers
Baked Goods
Muffins
Ice Cream
Legumes
Beans
Lentils
Soybeans
What About Alcohol?
Short answer: yes, some. First off, because you can have some forms of alcohol does not mean you can have the entire bottle!
Liquor will be the lowest carb option. Tequila, Vodka, Rum, and Gin all have 0 carbs. Keep in mind, this is without mixers. Best mixers are diet soda, water, or zero calorie/sugar adds like Crystal Light.
Beer is a no-no as it is full of gluten!
KETO FLU
The keto flu is neither a virus nor is it caused by ketosis. It is the symptoms of your carb restriction. Like going through withdrawls. If you feel you are in the keto flu, you need to get your electrolytes for relief.
Symptoms:
Constipation
Difficulty Sleeping/Insomnia
Fatigue
Headache
Digestive Upset
Lack of Focus
Irritability
Sugar Cravings
Nausea
Mental Fog
Heart Palpitations/Arrhythmia
Cramps (Leg & Muscle)
Dizziness
High or Low Blood Pressure
Good news is that this doesn't last your whole experience with keto. It's at the start of your carb restriction.
Remedies:
While it may not sound appealing, Bone Broth is actually delicious and helps keto flu by replacing electrolytes you've depleted.
Because of ketosis, you lose much needed salt and need to up your intake. Pink Himalayan Salt contains needed mineralsas well as helping to regulate blood sugar levels.
Supplements are available to combat the keto flu. HOWEVER, DO NOT use a Potassium supplements before speaking to your doctor! Potassium is said to cause irregularities within the heart as well as overdose!
DIFFERENCE IN KETO & LOW CARB
While it is confusing, these are two very different diets or lifestyles.
Arm yourself with the knowledge to make an educated decision which one is right for you.
Low carb is less strict than keto. Keto also incorporated healthy fats.
Keto For Me
Initially, keto was repetitive and boring since I was still learning the ropes. I literally ate eggs and bacon all the damn time. After much research, I figured out what to make that wasn't boring and my family could eat too. It's even easier now because there are friends like Tasteaholics who've made menu plans and ebooks to save us all time. Believe it or not, they help me too. Sometimes I am so busy I can't stop and think about menus. This eliminates that hassle and guesswork for me.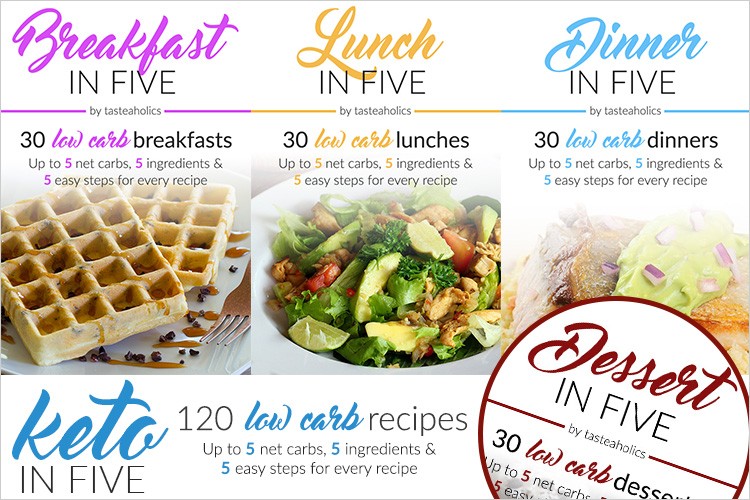 I hope this has helped you start on the road to a healthier lifestyle in this New Year! If you have any questions or comments, please let me know. I love hearing from you!
Have a great day!
xoxo.